Happy New Year from all of us at FinTech Collective and a big thank you to all of our 11k weekly subscribers! Thank you for sticking with and supporting our weekly labor of love (aka this newsletter) - we wish you all a very healthy, happy and prosperous 2020!

During 2019 we shared over 1,400 fintech news articles with context via this weekly newsletter. As we have done in years past, we want to take a moment to reflect on those stories you thought were the most notable. Enjoy reminiscing, and if you have friends or colleagues who will enjoy our weekly missive please have them sign up here! Link

Oh! And we must not forget our most popular Gif of the year – a gorilla throwing Pooh!?!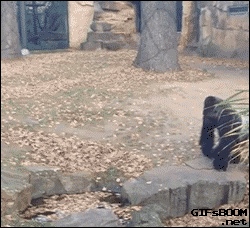 MOST-CLICKED STORIES FROM 2019
'Decentralized Finance Is a Continuum' - Sean Lippel's case for the end of Industrial-era finance - Decentralized finance, otherwise known as DeFi, sits at the intersection of financial products and services with decentralized networks and open protocols. The implications of DeFi will be pronounced across both developed and emerging markets. Read more

Dawn of the neobank: the fintechs trying to kill the corner bank - Superb Forbes cover story about the trajectory of portfolio company MoneyLion and its CEO founder, Dee Choubey, on its path to offer a complete, private bank for the $50k American household. Over time, the company has become a "product factory" that offers seven financial products, including paycheck advance and brokerage services. Read more

This summer Professor Fong published "13 minutes to the Moon" and became the BBC World Service's most successful podcast ever, with over 5 million downloads.

Quovo is joining Plaid - The path to a $2.7b Unicorn - Zach Perret, CEO of portfolio company Plaid, discusses the company's humble beginnings trying and failing to build consumer fintech apps - only to discover a severe dearth of infrastructure (or "plumbing for financial data") in the process. Read more

Gareth goes to Buckingham Palace – It's not really fintech but... our very own Welshman joined members of the British royal family at Buckingham Palace last week to celebrate the 50th anniversary of the Investiture of the Prince of Wales. See if you can spot him here in Hello. Read more

An archive of startups' pitch decks - Interested in seeing (amongst others) Coinbase or Uber's Seed decks, WeWork's Series C deck or LinkedIn's Series B deck then look no further! Read more

Google Street View image of a house predicts car accident risk of its resident - A report published this month shows how images of houses are predictive of car accidents - analyzing Google Streetview images of houses substantially improved car accident risk prediction compared to the state-of-the-art risk model at insurance companies. Read more

Your parents' financial advice is (kind of) wrong - The WSJ examines the personal-finance playbook followed by past generations and finds that it doesn't add up for many people the way it used to. It's time for some new money rules. Read more

Here's who owns the most land in America - Bloomberg's interactive map explore the 100 largest private landowners in the U.S. who own 40 million acres—an area the size of Florida. Read more

Silicon Valley is eating the banks' lunch - Back in 2014, JPMorgan's Jamie Dimon warned that Silicon Valley was coming to eat the banks' lunch. In this FT article is becomes apparent that the technology companies are now starting to "chow down." Read more

Digital banks are racking up users, but will they ever make money? - Critics argue that these digital upstarts are surging thanks to a small number of novel features that older banks will copy, if they haven't already. Startups respond with "death by Cobol," a reference to a programming language that still lurks in many of their tech stacks that dates back to 1959. Read more

A guy on Reddit turns $766 into $107,758 on two options trades - A little known sub-Reddit dedicated to educating novice traders on options has produced an individual who turned less than $1k into over $100k. He accomplished the feat with two legendary trades on short term, out of the money puts. Read more

Where millennials turn for financial advice - The FT explores where younger investors, shunned by traditional advisors, are going for their financial advice. Read more

FBI interview tricks help this fund manager see through CEO lies - The Pengana Australian Equities Fund, uses the FBI's interview techniques to get under the skin of CEOs, seeking to catch them in lies, exaggerations and deflections of blame for their actions. Read more

Why the Apple Card is the gleaming future of money - The way we spend is changing. Here is a Wired magazine write-up on everything we should consider based on Apple's new credit card. Read more
FinTech Collective Newsletter
Curated News with Context
Delivered every Saturday, the weekly newsletter, produced by our team, provides a tightly edited rundown of global fintech news, along with a bit of our original analysis.